Happy birthday, website!
In November and December 2008 We are celebrating the UNISONScotland website's 10th birthday!
On 19 November 1998, the UNISONScotland website went online for the first time. The UNISON UK website www.unison.org.uk was the first UK national trade union site and UNISONScotland was the first regional website in UNISON. From a start of hits numbered in the thousands, the site now gets almost 10 million hits a year.
This page gives a number of links to significant events and changes to the site over the years. It will be added to over the next few weeks as we dig through the archives. So be sure to check back.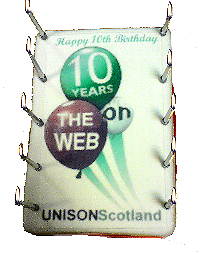 Thanks to the Communications & Campaigns Committee for the fantastic cake!

Official launch and manifesto first:
The website was officially launched on 4 December 1998 when UNISONScotland became the first union website to launch a campaign and manifesto online. This was the 'Serving Scotland' Manifesto for Public Services directed at the then new Scottish Parliament. In an innovative campaign, we went on to publish 'minifestos' on issues affecting women, equalities, communities, culture etc.
Click here for the manifesto - and here for the press release launching the site and the campaign.