UNISON Marks 30th Anniversary of Bhopal Disaster...
Report by Tony Caleary UNISON Stirling Branch
Save Kobane: Update on the Plight of Kurdish Refugees …
Stephen Smellie of South Lanarkshire Branch Reports
Take One Action
UNISON has been working with Take One Action Film festivals. Entertaining films are a great way of engaging people in an issue, opening up discussion and mobilising people to get in-volved and take action. That is what Take One Action is all about.
Support for Bhopal - Reports on a UNISON Scotland delegation to mark the 30th anniversary of the disaster in December and build support for justice for the people of Bhopal.
TAKE ONE ACTION FILM FESTIVAL 2014
UNISON sponsored films and audience discussions - join in!



Call for Sainsbury's to end trade with companies complicit in occupation
UNISON Scotland's International Committee has written to Sainbury's urging the company to live up to its own ethical trading principles by ceasing trade with Israeli agricultural export companies which operate in illegal Israeli settlements and which profit from Israeli violations of international law. Click here for full details July 2014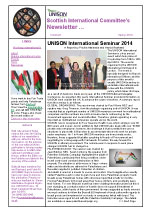 Scottish International Committee Newsletter
Spring 2014 (pdf)
Inspiring UNISON Scotland and North West 2013 international seminar - click here for story and photos: 22 September 2013



Newsletter August 2013 (pdf)


Newsletter August 2012 (pdf)


Newsletter April/May 2011 (pdf)
Israeli soldiers attack Jenin Freedom Theatre: Plans to set up Scottish Friends of Freedom Theatre.
BDS Campaign: Israeli Democracy and Human Rights In an open letter to The Herald newspaper, Mike Kirby, Scottish Secretary, questions potential attacks on the human rights organisation, B'Tselem, which has been supported by UNISON.
PRIORITIES
PREVIOUS UPDATES FROM THE INTERNATIONAL COMMITTEE
ISSUES OF CONCERN:
Columbia
Gats
Fair Trade (Hadeel Fair Trade shop aims to provide a sustainable source of income for craftspeople working in community based groups in the West Bank, Gaza and Lebanon)
Famine in Southern Africa
GUEST SPEAKERS/STALLS/INFORMATION
The committee welcomes requests from branches, self organised groups and individuals who would like to know more about international matters and the role of UNISON.