STOP THE WAR ON GAZA
Stop Israel's crime against humanity
Scotland-wide Demonstration
(See also Joint Statement on Gaza)

Edinburgh
Saturday 10 January 2009
Assemble 12:30pm East Market Street (behind Edinburgh Waverley Train
Station)
March through the city centre and to the US Consulate.

Bring in-date medicine for Gaza, and spare shoes.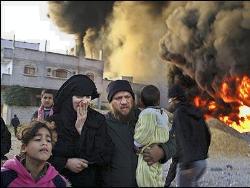 Supported by Stop the War Scotland, Glasgow and Edinburgh, Pauline
McNeil MSP, Sandra White MSP, Muslim Association of Britain, Scottish
Palestine Solidarity Campaign, Glasgow Palestine Human Rights Campaign,
Lebanese Community Scotland, Scottish Afghan Society, Scottish Islamic
Foundation, Scottish Friends of Palestine, and others to be confirmed.

Stop the Massacre: Israel out of Gaza: End the Blockade: Free Palestine

From Stop the War's national call for demonstrations:

500 dead. Thousands injured. United States blocks UN call to stop the
carnage.

This ground attack is intended to turn Gaza into Israeli killing fields.
Within hours of troops entering Gaza, hospitals reported that 23 people
had been killed and that twenty of them were civilians.

Demonstrations across the world call for an immediate stop to the
carnage. Every country in the world bar one wants the killing and
destruction to stop now. But just as it did in the Lebanon War in 2006,
The United States has given the green light to Israel to intensify its
barbarism.

The US is blocking all UN diplomacy for an immediate ceasefire with the
tacit compliance of the British government, which calls for an immediate
ceasefire while at the same time endorsing America's refusal to allow
any discussion in the United Nations to achieve this end.

When Israel broke the six month ceasefire on November 4, it was the
trigger for this long planned invasion, deliberately timed for the last
few weeks of George Bush's presidency and a few weeks before Israeli
elections, in which all the leading politicians are competing as to how
many Palestinians they can kill.

We urge all of our supporters to do all keep informed about our
activities at the website www.stopwar.org.uk
<http://www.stopwar.org.uk/> and by subscribing to our regular
newsletters. Everyone who is shocked and outraged by Israel's barbarity,
and the prospect of hundreds more Palestinian civilians being killed by
the fourth most powerful military in the world, should commit themselves
to helping mobilise for the protests in the coming week and for making
the national demonstrations on Saturday 10 January in Edinburgh and
London the biggest yet seen in this country for the freedom of
Palestine.
Joint Statement on GAZA
From the United Nations Association (UNA)-Iran, Organization for Defending of Victims of Violence (ODVV) and United Nations Association (UNA)-Edinburgh
And the following NGOs:
Abu Reihan Birooni Institute
Aeen Mehr Promotion Foundation
Ah-Albaeit Global Association
Association of Hamyaran Mahale
Association of Mehrvarzan Tavana
Association of Saba Mehrafarin
Corporate Social Responsibility Institute Ghoghnoos Foundation for Children and Adolescents
Islamic Human Rights Commission
Islamic Society of Iranian Women
Modern Attitude Mothers Institute (MAM)
Nedaye Zeinab Institute
Society for Protecting the Rights of the Child
The Charitable Institute for Protecting Social Victims
The Institute for the Promotion of Iranians' Life Quality
Tehran, Sunday 4 January 2009
We the peoples of the above-noted organizations, meeting together in Tehran on the 4th January 2009
Note with horror and anger the continued bombing of civilian populations in Gaza,
Call on the UN to implement a temporary CEASEFIRE immediately,
Recognise that the Security Council has been unable to act effectively,
Note that the UN Resolution for Uniting for Peace, adopted in 1950, allows the General Assembly to take control of any decision-making regarding international peace and security,
therefore Call on the UN Secretary General to establish a UN Extraordinary General Assembly on Gaza
For immediate release ODVV and UNA-Iran, UNA-Edinburgh
Israel's savage bombing and siege of Gaza
End British complicity
!!Demonstrate, Saturday 3rd January 12noon!!
- Glasgow: Protest outside Lloyds TSB, St Vincent Street and then assemble for demo at Blythswood Square, 2pm
- Edinburgh: Foot of the Mound, Princes Street
Supported by Scottish PSC and Stop the War Scotland
Emergency meetings to build Scottish solidarity with Gaza Tuesday 30 December, 7.30pm:
- Glasgow: Friends Meeting House, Elmbank Crescent (near Kings Theatre)
- Edinburgh: Augustine United Church Centre, George IV Bridge All welcome
- come along to get involved in discussion of our response to the crisis in Gaza and to organise Saturday demonstration and future actions.
The organisations and individuals below have agreed to form, and invite all others to join, a Scottish Emergency Co-ordinating Committee on Gaza:
- Scottish Palestine Solidarity Campaign
- Stop the War Scotland
- Scottish Islamic Foundation
- Glasgow Campaign for Palestinian Human Rights
- Pauline McNeil MSP, Convenor Scottish Parliament Cross Party Group on Palestine
Stop Israeli Massacres of Palestinians
Stop Israeli Genocide Stop British Government Support for Israeli crimes Vigil,
Tuesday 30th December - Dundee, City Square, 3pm.
We will be lighting 300 candles in memory of people who have lost their life this weekend, please come and show your support for the people of Palestine,please forward to all.
Protest & Boycott!
Scottish PSC supports the call from Palestinian civil society for a world-wide campaign of boycott against apartheid Israel. The call is also supported by the highest-ranking United Nations official, President of the General Assembly, Fr. Miguel d'Escoto Brockmann.
*** Palestinian leadership in Israel calls for boycott to stop Israel's "acts of genocide"
News from Palestine: Gaza carnage sparks protests throughout Palestine West Bank rises up in response to massacre in Gaza Israeli forces target ambulances in West Bank Further protests planned in London, elsewhere in the UK and around the world - details on our website: www.scottishpsc.org.uk
Don't forget January SPSC events:
Sat Jan 17th - Trade Union Solidarity with Palestine Speakers from Palestine, South Africa, Canada (Sponsored by UNISON Scotland International Committee)
Sun Jan 25th - Resistance to Genocide & Ethnic Cleansing - from Europe in the 40s to the Middle East Today Speakers: Azzam Tamimi, Liliane Kaczerginski, Donnie Gluckstein, Mick Napier Part of Holocaust Memorial Week public events Join Scottish PSC- we are all volunteers with no paid staff - or make a financial donation to help us continue campaigning work:
Send a cheque to: Scottish Palestine Solidarity Campaign c/o Peace & Justice Centre 2 Princes Street Edinburgh EH2 4BJ United Kingdom Scottish Palestine Solidarity Campaign secretary@scottishpsc.org.uk
www.scottishpsc.org.uk SPSC is affiliated to the Palestine Solidarity Campaign (UK) www.palestinecampaign.org
Palestine General Federation of Trade Unions
< Back to Middle East Crisis Index