SCOTTISH BLACK MEMBERS AGM: SATURDAY 15 NOVEMBER 2014
AUGUSTINE UNITED CHURCH, GEORGE IV BRIDGE, EDINBURGH EH1 1EL
Click here for calling notice, delegate foms, nomination forms and creche form

- must be returned by 24 October 2014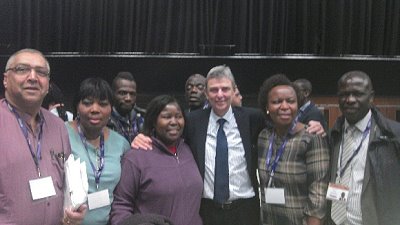 UNISON General Secretary Dave Prentis meets Scotland Black Members
SCOTTISH BLACK MEMBERS AGM: SATURDAY 16 NOVEMBER 2013
AUGUSTINE UNITED CHURCH, GEORGE IV BRIDGE, EDINBURGH EH1 1EL Click here for calling notice, delegate foms, nomination forms and creche form

- must be returned by 1 November 2013
SCOTTISH BLACK MEMBERS AGM: SATURDAY 17 NOVEMBER 2012
SCOTTISH PARLIAMENT, EDINBURGH
Scottish Parliament, Edinburgh on Saturday 17 November 2012, from 10.30 am – 1.30 pm.
Delegate forms, nominations and motions to be in by Wednesday 7 November 2012 Click here for the forms in PDF format
October Newsletter 2012: STUC Black Members Conference, 20 October and People's Charter (pdf)
SCOTTISH BLACK MEMBERS AGM: SATURDAY 19 NOVEMBER 2011
SCOTTISH PARLIAMENT, EDINBURGH
Scottish Parliament, Edinburgh on Saturday 19 November 2011, from 11.00 am – 1.00 pm.
Delegate forms, nominations and motions to be in by Wednesday 16 November 2011 Click here for the forms in

Word format

Spring Newsletter 2011 (pdf) - VOTE FOR PUBLIC SERVICES
STUC Black Workers Committee 2010 - 2011 Ismail Donmez from UNISON Fife Local Government Branch is our representative on the STUC Black Workers Committee for this coming year.
The STUC Black Workers' Committee carries out a wide range of work on tackling racial discrimination and promoting race equality. The STUC Black Workers' Committee is elected at the Annual STUC Black Workers Conference. The motion-based Conference helps determine the priorities of the Committee for its workplan for the coming year.
If you have any issues or priorities you wish Ismail to hightlight within the STUC please contact him on ismail.donmez71@gmail.com
STUC Black Workers Conference - Saturday/Sunday 2/3 October 2010, Menzies Hotel, Washington Street, Glasgow. New Click here for reports on debates as they happened.....
EVENTS COMING UP
Scottish Black Members AGM Saturday 13 Nov, Scottish parliament Committee Room 1: Click here for calling notice and papers.


Deadlines:
Delegates' registration Friday 29 October
Motions Friday 22 October
Nominations Friday 29 October 2010


St Andrew's Day March and Rally, 27 November 2010, Glasgow.
SBMC actively shares promotion of trade union activities within UNISON. We have two main objectives:
SBMC implements the above two objectives via an on going activity. All those who contribute to the implementation process are volunteers, who allocate a considerable amount of time and energies to tackle issues affecting black members in Scotland.
Like any organisation SBMC thrives on support and fresh ideas of its members. To know more about what we do? Why not join us now to support our cause. SBMC needs you, if you have some thing to say. SBMC always welcomes a new comer, keen activists, and those who can make SBMC go from strength to strength.