Local Government is UNISON Scotland's biggest service group. Its remit covers a range of employees including those of all of Scotland's councils, Direct Labour and Direct Service Organisations, Trusts, Joint Boards, voluntary and related organisations and private companies.

No Compulsory Redundancies Briefing Jan 2016 PDF
Special Local Government Conference 24 March 2015
Council Connections
Latest issue January 2016
Council Connections: Bulletin of UNISON Scotland
Local Government Network
Click here for latest issue
---
Archive news...
FAIR PAY CAMPAIGN 2014

Click here for info on FAIR PAY 2014 campaign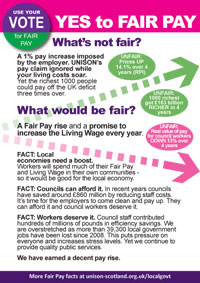 Consultative ballot on pay - 27 May 2014
Council Connections Latest Issue - No 7 May 2014
Council Budgets 2014 - Campaign Resources
11 Feb 2014: Councils are now setting their budgets for next year in the light of this settlement. We have produced three new communication materials to help branches with local campaigns. Click here for the St Valentine's Day Massacre leaflet and infographics on the Council Tax and public sector job losses
February 2014

Paying for Local Government (pdf)
A UNISON discussion paper
The funding of local government has been a difficult issue for political parties. At best proposals have been sticking plaster solutions because change is viewed as being politically challenging. However, we simply cannot go on as we are with short-term fixes that damage services and undermine local democratic accountability. We need to develop a new consensus that provides a long-term solution.
In this discussion paper we set out our view of the taxation options for local government in Scotland.
---
FAIR PAY CAMPAIGN 2013
Click here for info on FAIR PAY 2013 campaign
4 June 2013: Union announces Scotland wide strike ballot of council staff: Click here for press release
12 April 2013: UNISON's consultative ballot has resulted in members rejecting the employers' offer
15 March 2013: UNISON recommends rejection of pay offer. Ballot to follow: Click here for press release
Scottish Joint Council
PAY UPDATE
28 February 2013 Click here for details, FAQs and leaflets
Click here for the latest Local Government Committee Report
---
UNISON's new Local Government Network connects our Scottish councils and communities
Wednesday 23 May 2012: Our new Local Government Network is for councillors and others with an interest in Scottish local government. And regular e-newsletter Council Connections brings all of the latest news and information on what's happening across local government in Scotland.
'It's time for fair pay' say unions as they lodge pay claim for local government workers
Tuesday 8 May 2012: 'It's time for fair pay'. That was the message from Scotland's local government unions today (Tuesday, May 8) as they lodged their annual pay claim on behalf of council workers in a bid to end the continued pay freeze. Click here for press release
Briefing for branches
23 April 2012: Following UNISON's Scottish Local Government Conference on 23rd April agreement has now been reached with Unite and GMB to submit a pay claim for local government workers for the period 1 April 2012 - 31 March 2013.
The claim is as follows
A single year claim
£1,000 flat rate payment
The introduction of a Living Wage with a minimum hourly rate of £7.20
Encourage Community and Voluntary organisations, ALEO's conditioned to the SJC to implement any settlement agreed.
It is not enough however to simply lodge the claim and hope that negotiations will prevail! We have to win the hearts and minds of our members as to why pay matters more than ever at this time.
Workers in local government are the poor relations of the public sector as we enter the second year of a pay freeze. Our employers have already told us that they have no intention of engaging with the trade unions on pay this year.
If we are to change this we need to ensure that our members are ready to stand up and fight for Fair Pay, it is no more than they deserve. A Fair Pay campaign timetable and plan is being developed in order to gauge and encourage support among our members across the three trade unions.
A Fair Pay campaign logo and theme are being worked on to give the campaign an identity that members can relate to.
Resources such as members leaflet, workplace posters, Myths/FAQ's, campaign briefings, template press releases for use in branches and model letters for elected members and chief executives seeking support for our claim will be available for branches.
Branches will be asked to identify key spokespeople (Pay Champions) within branches, similar to Pensions Champions during the Pensions Dispute, to coordinate the campaign locally.
A Pay Seminar will be organised for Branch Secretaries and Pay Champions to ensure a consistency of approach to the campaign. Further details will follow.
Political lobbying will be a key component of our campaign, both locally and nationally. In the short term branches will be encouraged to raise the issue of pay with candidates in the Local Government Elections on 3rd May.
The campaign will also be launched online using existing social media networks, to achieve this the SLGC Facebook page will be revamped and a Twitter page created and linked into Facebook and Twitter feeds.
However the key to a successful campaign to burst the pay freeze will be to ensure the members help us win wide support to raise public awareness of the contribution UNISON members make to local communities and the pressures they face.
---
Previous news
Demand fair pay for local government workers
Questions to put to candidates standing for election on May 3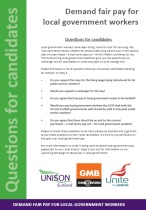 Local government workers have been doing more for less for too long. Pay rises have fallen below inflation for several years and we are now in the second year of a pay freeze a real terms pay cut while inflation continues to rise. The forthcoming local government elections give you the opportunity to challenge council candidates on what they plan to do to change this.
Please find below a list of questions that you should ask candidates standing for election on May 3.
" Do you support the case for the living wage being introduced for all public
service workers?
" Would you support a campaign for fair pay?
" Do you agree that low pay in local government needs to be tackled?
" Would you pay local government workers the £250 that both the UK and Scottish governments said should be paid to low-paid public service workers?
" Do you agree that there should be an end to the current pay freeze a real-terms pay cut for local government workers?
Please circulate these questions to as many people as possible and urge them to put these questions to their local candidates. It s time to put politicians on the spot over local government pay.
For more information on what is being done to tackle local government pay, please talk to your local branch. Keep a look out for information on our upcoming campaign to tackle pay in local government.
Posted by Trisha Hamilton at 4:20 PM 0 comments
Report to Scottish Council April 2011 - All service groups report to Scottish Council in February, April and December each year. This is the most recent report.

Update Feb 2011
UNISON to meet with Joint Trade Unions to discuss a pay claim to tackle low pay
Following a consultation with all Scottish local government branches, the meeting of branches on 4th Feb 2011 (Scottish Local Government Conference) agreed to discuss with GMB and Unite, a proposal to submit a 2011-12 pay claim which will tackle low pay.
The proposed claim, for a single year, would focus on a flat rate to benefit lower paid workers and would press for employers to introduce a Living Wage.
Dougie Black, UNISON Regional Organiser, said, "Although CoSLA has imposed a pay freeze for 2011-2013, the meeting took the view that we should continue to press the employers to address the issue of low pay in the public sector, especially at a time when a pay freeze means a pay cut in real terms.
"As the costs of food and fuel rises and the VAT increase begins to bite, we must do what we can to protect and improve the circumstances of our low paid members, who are bearing the brunt of a financial crisis not of their making," he added.
UNISON will now discuss this proposal with GMB and Unite and will seek to agree a joint claim.

Previous News