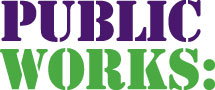 UNISON Scotland campaign for jobs, services, fair taxation and Living Wage
PUBLIC WORKS: THE BLOG
Read our news, analysis and comment on the delivery of public services in Scotland
---
Combating Austerity
September 2015 (pdf)


Signposting ways Scotland could limit damage to public services from government austerity economics
Click here for pdf
---
The Public Services Election UNISON Scotland Manifesto
2 April 2014 (pdf)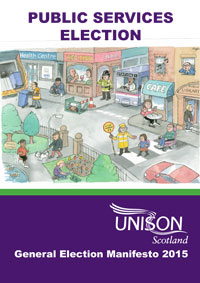 Don't let our vital public services and the workers who provide them be condemned to extinction in the general election on 7 May. If you value them, vote for them.
---
19 March 2015 OPINION POLL: Scottish voters election priorities are public services
---
The Price of Everything and the Value of Wages
UNISON Scotland Report October 2014 (pdf)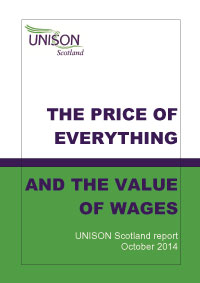 Working harder but getting poorer is conclusion of UNISON analysis comparing wages and prices. Scotland needs a pay rise! Click here for pdf
---
Voices From the Sharp End
Health and Care Integration
UNISON Scotland Survey Report October 2014 (pdf)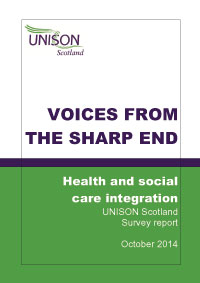 Health and local authority social work staff views on current proposals for integration of health and social care services across the country
Click here for pdf
---
A Scottish Living Wage
---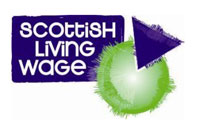 Scottish Living Wage Accreditation Initiative
August 2014 : Is your employer a Living Wage employer? Are they accredited? New campaign initiative and resources here
---
Fair Pay - we're worth it
---
Fair Pay Fortnight Briefing March 2014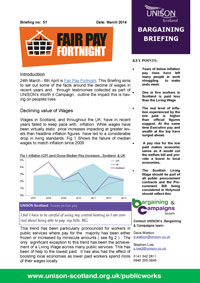 Click here for pdf document
Fair Pay Fortnight:
24th March - 6th April is Fair Pay Fortnight. This Briefing sets out some of the facts around the decline of wages in recent years and through testimonies collected as part of UNISON's Worth it Campaign outline the impact this is having on peoples lives...
---
Austerity is not working.
---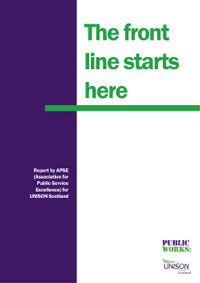 Click here for pdf document
The front line starts here March 2012: UNISON report argues for proper service redesign instead of back office cuts through flawed 'shared service' models
---
There is an alternative
---
A day in the life
Our public services are the most efficient way to deliver the things we need. You use public services every day and you get enormous value for what you pay.
Here's how... A day in the life of public services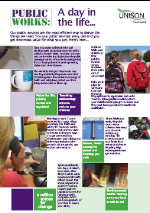 (Click here for a pdf of 'A day in the life...' leaflet)
Public Services in a recession - why they are important
Public Works: UNISON Scotland programme to beat recession (pdf)



Cost and value of public services: how everyone could lose out if the public sector was to be cut back
Public Works Briefing #1: What it costs... Oct 2009 (leaflet pdf)

For public services.
---
Health visitor survey
January 2016 (pdf)


Scottish health visitors speak out
Click here for pdf
---
Disconnected: survey of ICT staff
November 2015 (pdf)


Information and communications technology staff in Scotland's local services speak out
Click here for pdf
---
Combating Austerity
September 2015 (pdf)


Signposting ways Scotland could limit damage to public services from government austerity economics
Click here for pdf
---
Read It and Weep: Staff in Scotland's libraries speak out UNISON Scotland survey report September 2015 (pdf)
---
While we work you play: Staff in Scotland's leisure trusts speak out UNISON Scotland survey report June 2015 (pdf)
---
Poorer Workers Poorer Services: Life in ConDem Inverness UNISON Scotland survey report May 2015 (pdf)
---
Fair Work Decent Childhoods - Policies for those who work to live lives free of poverty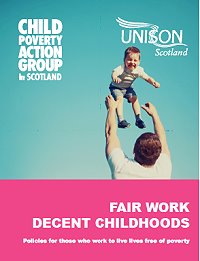 Procurement - 10 asks - April 2015 (pdf)

Civil society priorities for procurement in Scotland -
a strong, healthy and just society, living within climate limits (pdf)
Our updated '10 Asks' for new procurement regulations and guidance: NIDOS, the Scottish Council for Voluntary Organisations, the Scottish Fair Trade Forum, the STUC, Stop Climate Chaos Scotland and Nourish Scotland
---
Counting the cost: transaction staff in Scotland's public services speak out UNISON Scotland survey report April 2015 (pdf)
---
See us: staff in Scotland's mental health services speak out UNISON Scotland survey report Mar 2015 (pdf)
---
Dumped on: working in Scotland's waste management services UNISON Scotland survey report Jan 2015 (pdf)
---
Breaking Point: overworked and underpaid - hospital porters speak out UNISON Scotland survey report Dec 2014 (pdf)
---
Under Pressure: Scotland's occupational therapists speak out UNISON Scotland survey report Nov 2014 (pdf)
---
Austerity Economics Don't Add Up A UNISON Scotland report on public services and the economy - Oct 2014 (pdf)
---
Dishing the Dirt
Cleaners in Scotland's public services speak out August 2014 (pdf)
---
The Cuts Don't Work
The impact of 'austerity' cuts on Scotland's public services June 2014 (pdf)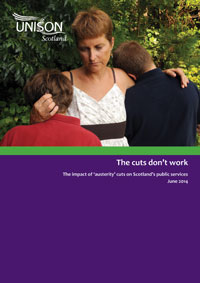 UNISON Scotland reportshowing what's really happening to public services across the country
Click here for pdf
---
UNISON Scotland European Election Manifesto May 2014 (pdf)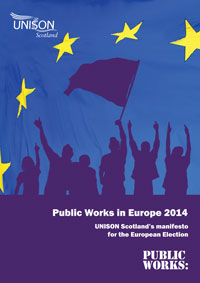 UNISON Scotland European Manifesto for 2014 European Parliament Elections - Click here for pdf
Council budgets 2014 - Campaign resources
Feb 2014: Click here for the St Valentine's Day Massacre leaflet and infographics on the Council Tax and public sector job losses
Procurement - 10 asks - October 2013 (pdf)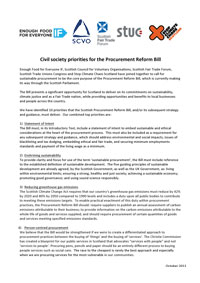 Civil society priorities for the Procurement Reform Bill pdf by Enough Food for Everyone IF, Scottish Council for Voluntary Organisations, Scottish Fair Trade Forum, Scottish Trade Unions Congress and Stop Climate Chaos Scotland
UNISON Scotland Local Government Manifesto May 2012 full version (pdf)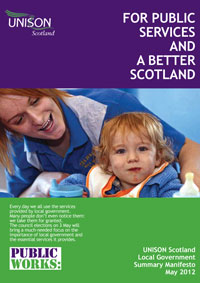 UNISON Scotland Local Government Manifesto
for 2012 Local Government Elections - Click here for pdf of full 20 page document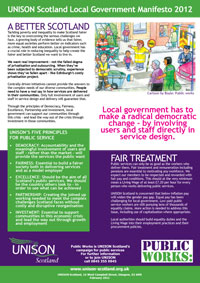 UNISON Scotland Local Government Summary Manifesto for 2012 Local Government Elections - Click here for pdf of 4 page version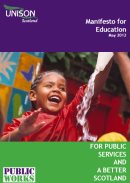 Manifesto for Education
May 2012 (pdf)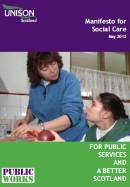 Social Care manifesto
May 2012 (pdf)