6 May 2015:
Inquiry into security of energy supply -
UNISON Scotland Submission to Scottish Parliament Economy, Energy and Tourism Committee

May 2015
---
UK General Election 2015 - Special Report on Fuel Poverty
UK General Election 2015 Special Report on Fuel Poverty
from Energy Action Scotland
supported by UNISON Scotland
With more than 1 in 3 Scottish households struggling to afford to heat their homes, the national fuel poverty charity Energy Action Scotland and its members were keen to know the policies of the political parties on this issue. Energy Action Scotland created a questionnaire for political parties fielding candidates in Scotland for the UK General Election.
The responses are in this document.
May 2015

---
11 Nov 2014
* Community Energy Policy Statement: UNISON Scotland response to Scottish Government Consultation

Nov 2014
---
Why energy policy should be devolved:
Dave Watson's blog 21 October 2014
---
Scotland's Energy - Scotland's Future
A balanced energy strategy for Scotland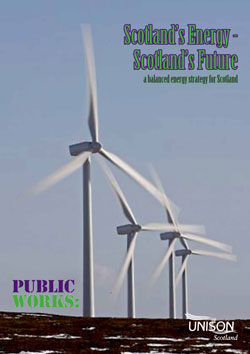 UNISON's Scottish energy strategy document was launched on Friday 24 February 2012
See press release:
24 Feb: Only a balanced energy strategy for Scotland will keep the lights on - UNISON
From the summary of the document:
A Scottish Energy Strategy
We believe a sustainable Scottish energy strategy should be based on a planned market for energy combined with security of supply, as well as social, employment and environmental objectives.
Key principles of a balanced Scottish energy strategy should be:
Prioritising tackling climate change in line with the targets for reducing emissions set out in the Climate Change (Scotland) Act. This includes stronger public duties and more support for Green Workplaces.


A balanced electricity generation policy from a number of sources to minimise volatility and ensure security of supply.


For the foreseeable future, to continue gas and coal generation at current levels, subject to the introduction (with government support) of new clean 'green' coal technologies. We believe that other alternatives exist to bring Longannet within emission regimes as well as Peterhead developing a CCS project for gas.


The Scottish Government targets for generating electricity from renewable sources are very challenging and not even desirable. However, the ambition to develop renewable generation is a sensible objective and governments should support the development of the sector with a more realistic 60% target by 2020. Local authorities could play a larger role particularly through microgeneration.


Whilst in England it is arguable that nuclear power can be replaced by renewables - this is not the case (at least in the medium term) in Scotland where traditionally a greater proportion of our base load generating capacity is delivered by nuclear. However, despite the likely need for the replacement of one nuclear power station it seems unlikely that the market will want to build in Scotland given the discriminatory transmission charges and political resistance.


Operating extensions for existing nuclear stations should be agreed where safe and practicable.


Scotland should aim to continue to produce an energy surplus to export, recognising the importance of the industry in providing high quality jobs and with specific investment in sector based skills.


Demand for electricity should be reduced by promoting and incentivising energy efficiency for individuals, the private and public sectors, with new resources for local government and revised targets including new building standards.


A better co-ordinated drive against fuel poverty together with new initiatives to ensure that fuel poverty is eradicated.


Privatisation and liberalisation of the energy market will not deliver a planned energy policy and has not enabled alternative generation to make a significant new contribution to our energy requirements. The integrated Scottish electricity industry remains the most efficient method of delivering Scotland's energy needs.
---
UNISON is the largest union in the Scottish power industry.

Energy Action Scotland Annual Conference & Exhibition
'Reaching the Fuel Poor'
6 - 8 November 2002
Beardmore Conference Hotel, ClydebankThe Energy Action Scotland Annual Conference is the leading event on fuel poverty, affordable warmth and related issues in Scotland. This year's conference will take place on 6 - 8 November at the Beardmore Conference Hotel, Clydebank, nr Glasgow. Entitled Reaching the Fuel Poor, the conference is sponsored by ScottishPower and Transco.It will focus on the many initiatives currently underway to tackle fuel poverty, and will also examine how we can establish effective links at local and national levels and across devolved/reserved matters in government.Delegates include energy and debt advisers, local authorities, housing associations, health bodies, academics, fuel utilities, insulation and heating companies, trade unions, regulatory bodies, voluntary organisations etc. For further information and booking details contact: Energy Action Scotland
Suite 4a, Ingram House,
227 Ingram Street,
Glasgow G1 1DA
Tel: 0141 226 3064 Fax: 0141 221 2788
Email: eas@eas.org.uk Website: www.eas.org.uk Working for Warm, Dry Homes