New: Bodyform supports Dignity! Period.
Click here for details and how to enter competition
Raise funds for Dignity Period
Being a woman in Zimbabwe is like going to war with a gun minus bullets. Sanitary towels are now threatening the Zimbabwean woman's livelihood. In Zimbabwe women are unable to afford the small quality and quantity of sanitary products that are available currently in the market.
Zimbabwean trade unionist Tabitha Khumalo told the STUC in April 2006, "On a wage of £3, with sanitary towels costing £3, women have to choose between sanitary towels or food for their children. You know what they choose".
In an emotional speech, she said that, with the help of trade unions, Zimbabwean women were restoring their dignity.
"I am weeping but these are not tears of sadness, they are tears of joy because you will help us", she said.
Tabitha was brought to the STUC by the Amicus union and she moved delegates to tears as she asked them to "support our campaign, restore dignity to Zimbabwean women so that we can fight this dictator and have our right to be human beings".
You can help by logging on to the ACTSA website (click here) and making a donation.

top
Bodyform supports Dignity! Period. campaign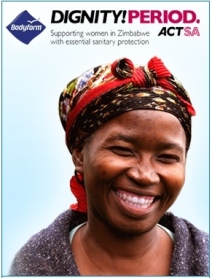 ACTSA is pleased to announce a new and exciting development in the Dignity! Period. campaign - an important partnership with Bodyform, the sanitary product manufacturers.
Bodyform has joined forces with ACTSA to ensure that the women in Zimbabwe are afforded their most basic human rights. We need your help to make a small but significant difference to the lives of the Zimbabwean women.
As you know, the Dignity! Period. campaign provides safe and hygienic sanitary protection to women in Zimbabwe to help combat the infections, social embarrassment and in some severe cases infertility that the current sanitary crisis is creating.
Bodyform are donating funds for ¼ million packs of sanitary towels to be produced for Zimbabwean women and would like you support them. Bodyform packs, branded with details of the Dignity! Period. campaign will be in all major retailers (supermarkets, chemists, pharmacies etc.) nationwide in July and August in a push to raise both funds and awareness for the campaign.
Please tell your friends, family, colleagues and anyone possible about the campaign and to look out for packs in shops and stores around the country.
We also invite you to enter a competition that has been launched to help people spread the word about the campaign.
You can win a weekend in Saye Manor in St Catherine's Valley, Gloucestershire. Set in a quiet hamlet, you could enjoy this stunning property complete with heated indoor swimming pool, open log fires and a canapé evening reception on the Saturday of your stay.
There are 4 double rooms and 1 twin room (extra beds also available) so you can invite up to 11 friends to share the weekend with you - the perfect opportunity to enjoy some time together and enjoy the scenic location.
Plus, if you enter your friends' email addresses as you enter you will also help to raise awareness of Dignity! Period and the plight of the Zimbabwean women. To enter the competition and find out more on how get involved and help the campaign, please visit: www.bodyform.co.uk .
Best wishes and thank you for your support,
ACTSA
Action for Southern Africa - Peace, Justice, Solidarity