'Hope not Hate' Sets up its Group in Glasgow
By Hamid Rasheed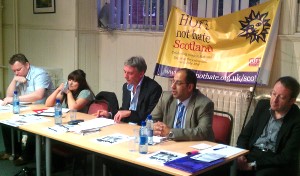 L to R:
Matthew Collins HnH, Vicky Burns STUC, Richard Leonard GMB, Muzafar Hussain STUC Black Workers, Cllr Bill Butler
A foundation meeting of the 'Hope not Hate' Campaign on 20 September 2012 proved successful in setting up a local group in Glasgow, with a resolve to counter racism and fascism in the city. The meeting took place at the STUC building at 333 Woodlands Road, Glasgow. Despite bad weather, the meeting was actively participated by the trade union members, community groups, and members of the civil society.
The meeting was chaired by Richard Leonard Regional Political Officer of GMB Scotland. This interactive meeting provided an opportunity for those present, to listen and ask question to a panel of esteemed speakers. The speakers list included, Glasgow City Councillor Bill Butler, Muzafar Hussain Vice Chair STUC Black Workers Committee, Vicky Burns Campaign Manager for Show Racism the Red Card Campaign, and Matthew Collins of the 'Hope not Hate' campaign.
Muzafar Hussain: Spoke about "Institutional Racism and Football based sectarianism". He expressed, as a teacher; he believes that no Child is racist or fascist. He said: "It is important to educate our youth to understand that there should be no room for racism and sectarianism in Scotland."
Vicky Burns, acknowledged that there is racism in Scottish Society and her organisation engages publics via Football to 'Show Racism a Red Card'. She said: "Our annual Fortnight of Action takes place in Scotland and Wales from 12th - 31st October, 2012, with an aim to encourage anti-racism actions. The event encourages participation from all sections of communities to celebrate diversity and tackle racism."
Matthew Collin's key note speech was a personal testimony and a political overview of the situation. He said: "The Far right is rising, the English Defence Leagues and the Scottish Defence League are the new face of old the fascist BNP. Polls suggests shift in public attitudes towards the need to shape Anti-Immigration Policy. However, it is not the presence of asylum seekers / refugees, but it is Poverty that breads Racism".
Never have we been beaten by hate based policies of the Far Right; its time to build resistance in the community to counter Racism and Fascism", he insisted.
Councillor Bill Butler urged that this is time to organise and tackle fascist racist on the streets, "we should not give the any space or a platform to organise and promote messages of hate". He expressed, that he aims to move a motion in the Glasgow City Council, to raise awareness to keep fascist racists off the Streets of Glasgow. He said: "Its time to educate and engage our communities to keep Scotland free of racism and fascism. Expressing his disappointment about dawn raids on Refugees and Asylum Seekers, he said things have improved, but lots need to be done – to curb racism and fascism. Education is the key – Racism and Fascism is not acceptable in Scotland.
A question and answer session followed the speeches. In response to a question about the need to set up a group; the message from the panel of speakers was clear, that with the rise of racism and racism; we are left with no choice apart from setting up a local 'Hope not Hate' Campaign group, to actively counter Racism and Fascism in Glasgow and Scotland.
In response to a question about constraints, the panel of speakers acknowledged, that the threats such as a rise of far right groups like the English Defence League and the Scottish Defence League; funding cuts and changing public attitudes towards in Anti-Immigration policy are a few of the many constraints. However, the panel was unanimous in stating that far right's politics of hate can be countered with messages of hope.
The meeting was sponsored by Neil Findlay MSP (Lothians), Drew Smith MSP (Glasgow),
Elaine Smith MSP (Coatbridge & Chryston), Bailie Liz Cameron (Glasgow City Council)
Hope Not Hate Greater Glasgow Group Founding Meeting
THURSDAY 20th SEPTEMBER
STUC, 333 WOODLANDS ROAD, GLASGOW, G3 6NG
(5 minutes FROM KELVINBRIDGE UNDERGROUND STATION)
Click here for PDF flyer with full details
Updated 17 September 2012
Archive information
The European Parliament elections take place on Thursday 4 June. Whatever your view of Europe, there is a clear threat that the BNP will be spreading their politics of hate to try to win seats in the Parliament. To do this they are trying to hide their extremism. The trade union movement has a crucial role as the main campaigning body against racists.
UNISON Scotland, together with the STUC its trade union councils, civil service union PCS and other affiliates, is actively supporting Searchlight's "Hope not Hate" campaign to keep the BNP out.
We are co-ordinating a union day of action 'Union Friday' on Friday 15 May.
We are asking all branches to take some action that day to target their members and the public.




Click here to see what is happening
across Scotland... and near you
In your branches and workplaces encourage your members and colleagues to:
Register to vote now
If people aren't on the electoral register they can't vote. Check at your local library or council offices. Voter registration forms are available from your local council or online at www.aboutmyvote.co.uk - the completed form has to be returned to your local council. The final deadline for returning forms to register to ensure a vote in the Euro Elections is Tuesday 19 May.
Vote! on Thursday 4 June
A low turn out means the BNP need fewer votes to be successful.
Pass on this message
Forward this information by email and encourage families and friends to vote in the Euro Elections on 4 June – tell them that a vote for the BNP is a vote for the politics of hate, and against freedom, equality and tolerance.
Turn out and campaign
You can help with activities like the lunch time stalls, or leafleting of railway stations being organised in towns and cities on Friday 15 May. Look out for further updates with more details.
Page updated: Monday 11 May 2009