COMPETITION TIME FOR YOUNG MEMBERS!!
The Scottish Young Members Committee is currently working on the re-launch of their quarterly newsletter which will be available soon. As part of our re-launch we have decided to try get our Young Members within Scotland involve, and what better way than with a competition.
We are going to give the chance for young members in Scotland to decide on the name of the newsletter!! Within the newsletter it will give you pointers and advice around deciding on a name you think would suit best.
The winner of the competition will receive some young member's freebies as well as a £50 voucher. Keep an eye out for our newsletter, it will be with you soon!
20 May 2015
Katrina Rankin
Chair of Scottish Young Members Committee
Campaigning with the Scottish Young Members Committee
The Scottish Young Members Committee recently attending Nottingham for the National Young Members Weekend (NYMW) which everyone really enjoyed. We have come back feeling motivated and ready to begin hard work on our new campaign.
The last two previous years we came 1st at the NYMW for best campaign idea which was our housing campaign 'Gies A Hoose' and continued as 'Gies A Hoose – Part 2'. This campaign was really successful and was a huge amount of work for the committee. We were also extremely proud to win the UNISON Scotland Communications Award 2014/15 for Best Campaign.
This year we came 2nd with the best campaign idea, which we were still extremely happy with and we agreed as a committee to take our campaign back to the Scotland region to begin some more hard work. This year we have agreed to run a campaign around work place bullying and giving our young members and others a better understanding around bullying within the work place and supports that are available. We have already given our campaign a true Scottish style name of 'Gonnae No Dae That'.
We will be spending the next few months, creating various pieces of campaigning materials before launching our campaign. To follow our work on the run up to the launch of our campaign please follow our Facebook Page – UNISON: Young Members in Scotland and Twitter - @UNISONScotYMs where we will be using the #uymgonnaeno
20 May 2015
Katrina Rankin
Chair of Scottish Young Members Committee
National Conference: Young Members Social Event
Conference can seem like a daunting experience especially for new young members who have never attended any conferences before. For a chance to meet other young members and socialise we have organised a social event which all delegates under the age of 27 are invited to.
There will be a young member's informal meeting, followed by a quiz night/ social at 8.30pm on Tuesday 16 June at the Function room, Committee Room 9, 18 John Street, Merchant City, Glasgow, G1 1JQ. You will have received an email from Gary Williams, National Young Members Officer on Wednesday 20 May and this includes a map for directions. Can you please ensure your respond to Gary confirming your attendance so that we can plan for numbers.
If you have not received this email, you can contact me, Katrina Rankin via email – ymunisoner@yahoo.co.uk and I will contact Gary in regards to this.
20 May 2015
Katrina Rankin
Chair of Scottish Young Members Committee
Hello... from the new Young Members' Committee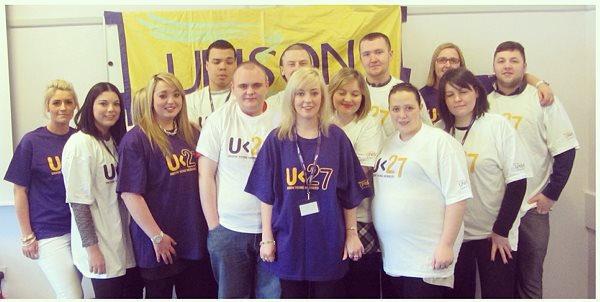 The UNISON Scotland Young Members Committee elected in March 2014:
Katrina Rankin, East Renfrewshire Branch, Chair of SYMC; Ryan Boyle, NHS Glasgow, Clyde & CVS Branch & Raymond Kilpatrick, NHS Glasgow Branch, Vice Chair of SYMC (shared); Chris Allen, Gas Branch; Fahd Asif, University of Dundee Branch; Leanne Barnett, Aberdeen Health Branch; Charlene Brown, Aberdeen Health Branch; Sarah Collins, East Ayrshire Branch; Matt Ellis, Aberdeen Health Branch; William Johnstone, NHS Lothian Branch; Andrea Kay, Argyll & Bute Branch; Sarah Rodgers, West Lothian Branch; Cara Wedlock, South Lanarkshire Branch; Carri Wight, NHS Lothian Branch;

Young members produce housing guide
Whether it's renting social housing, becoming a private tenant or buying your own home, entering the housing market for the first time can be daunting.
That is why the UNISON Young Members in Scotland support have produced Young Members Housing Guide 2014/15.
It gives a simplified overview of your rights and responsibilities, as well as schemes out there aimed at helping young people get started on the property ladder.
Scotland is currently facing a housing crisis. The lack of social housing in particular is impacting heavily on young people who are either forced to stay with parents, are struggling to afford rented accommodation and save enough money to be able to buy their own home.
We believe everyone should have a home and shouldn't be struggling to afford a place to call their own.
February 2104
Wendy Hudson
Scottish Young Members Officer

Archive news....
Young Workers Day - South Ayrshire
South Ayrshire UNISON's Young Members Officer - Michelle Coulter, recently held a Young Workers Day for new Skillseekers employed by the council. The aim of the day was to inform the new starts of the importance of trade union membership. By all accounts, a successful day was had: 17 new UNISON members and a heightened awareness of employment rights!
The Young Workers Day campaign is supported by the Scottish Young Members Committee, to encourage branches to reach out to young workers and educate them on their rights as they come into the workplace. More details are available in the Events section.
On Strike for Fair Pay!
Angela Nicol, of the Scottish Young Members Committee, spoke at the rally in Edinburgh on the second day of action in the Local Government pay dispute.
STUC Youth Conference
2008's STUC Youth Conference was held in the Saluation Hotel in Perth, with this year being the 70th birthday of the STUC Youth Committee.
This year's Committee election results mean that UNISON Scotland will be represented by Carrie Milligan (Chair - Scottish Young Members Ctte) and Graham Smith (Vice-Chair, Scottish Young Members Ctte).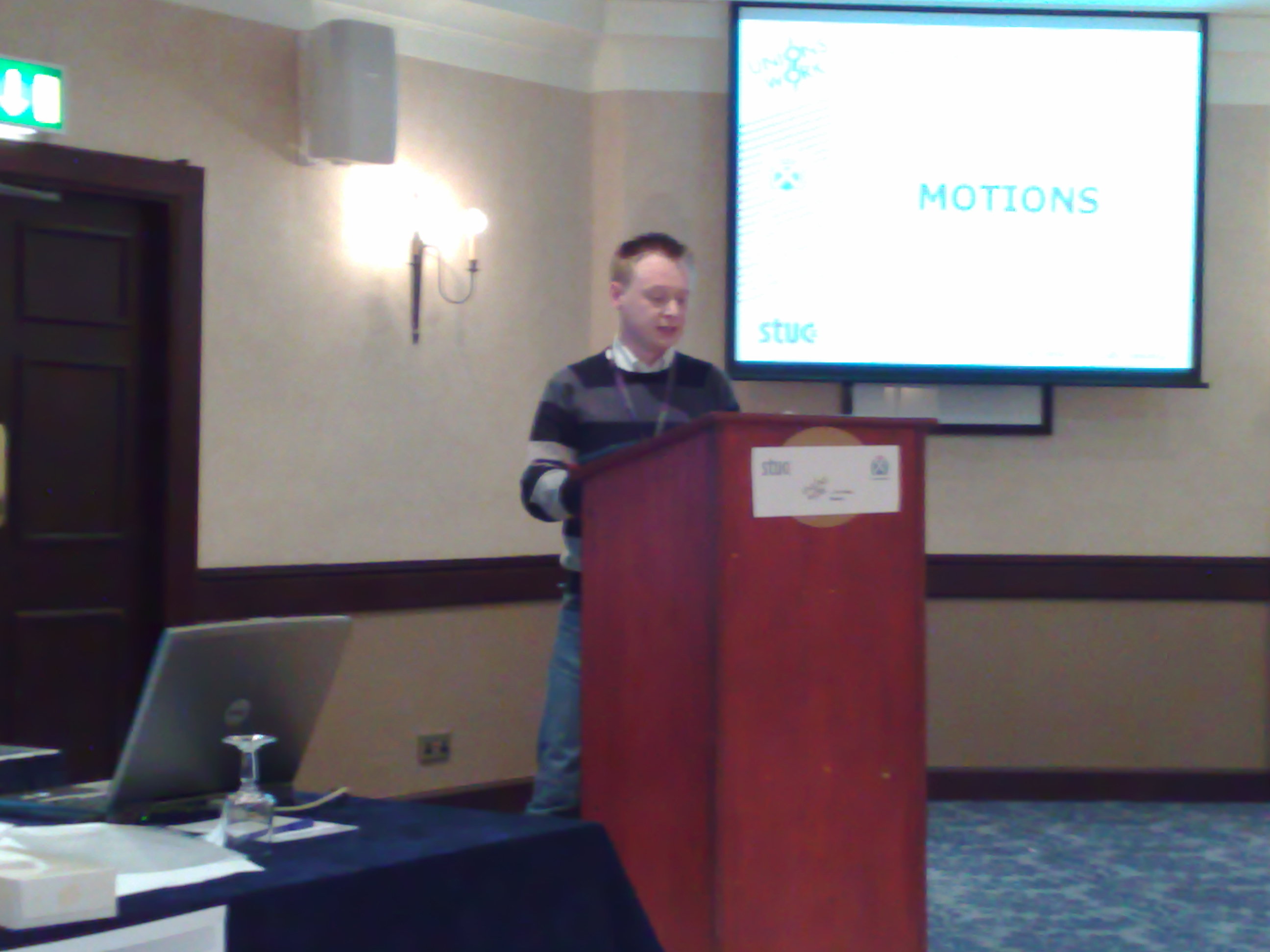 Derek Burns speaking on behalf on UNISON at the STUC Youth Conference
Scotland's Young Members at National Delegate Conference
In keeping with Scottish Young Members involvement at National Delegate Conference, they were well represented in all of the week's proceedings.
Scotland's Young Members were ably represented by Angela Nicoll; in addition many branches nominated young members to represent their branches at conference.