Lesbian, Gay, Bisexual and Transgender members
LGBT Helpline Scotland
The new LGBT Helpline Scotland service - a telephone service which provides support and information to lesbian, gay, bisexual and transgender people across Scotland, provided by LGBT Centre for Health and Wellbeing in Edinburgh has been launched.

Information and emotional support for lesbian, gay, bisexual and transgender people and their families, friends and supporters across Scotland.
Open every Tuesday and Wednesday from 12pm to 9pm.
Call : 0300 123 2523

---
Take a stand against homophobia
NHS Greater Glasgow and Clyde are asking staff, patients and members of the public to support them in taking a stand against homophobia.
"We believe that it is all our responsibility to ensure that everyone who works for or uses the health service is treated fairly.
We want to make it clear to everyone that homophobia is no different to racism or sexism and has no place in NHS Greater Glasgow Clyde."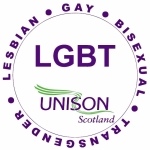 Lesbian, gay, bisexual and transgender people are still denied equality in the workplace - too often we face discrimination and harassment instead of a fair deal. Joining UNISON gives you a voice in Britain's biggest public services union, which is committed to working for LGBT rights.

Lesbians, gay men, bisexual and transgender people in UNISON organise locally and nationally to support each other, to identify discrimination, to increase awareness of LGBT rights and to campaign for change. The UNISON group voted in 2005 to become an LGBT group and we are working to build bisexual and transgender members and issues into the core of our group. Together we can speak up for our rights at work and improve each other's lives.
Out in UNISON is our printed LGBT newsletter mailed direct to members on request - just add your name to our confidential mailing list. unison.org.uk/out/mailinglist.asp.
Previous issues can be found at unison.org.uk/out/docs_list.asp?s=Out in UNISON
Updates

Resources

SCOTTISH LGBT AGM: SATURDAY 17 OCTOBER 2015: Glasgow Health Branch, Empire House, 131 West Nile Street, Glasgow
Click here for delegate registration form, nomination form for committee places and, if required, a crèche form for return by Friday 25 September 2015

Motions to LGBT conference
Motions from branch and regional groups can be submitted via the Online Conference System up till noon this Friday, 24 July 2015 For details about how to do this, and all other conference related info, see the conference bulletin www.unison.org.uk/
documents/4607 We look forward to an interesting agenda!
The main conference deadline after that is 18 September, which is the closing date for delegate registration, nominations for the elections taking place at conference, proposals for NDC and service group motions and amendments to motions on the preliminary agenda.

The Scottish LGBT Equality Report launched on 21 July

- Click here to read a copy
The Equality Network launched The Scottish LGBT Equality Report, a major new state-of-the-nation report on lesbian, gay, bisexual and transgender (LGBT) people's experiences of inequality in Scotland: www.equality-network.org/the-scottish-lgbt-equality-report
The report is the most comprehensive study of LGBT inequality in Scotland to date, based on a survey of 1052 respondents and informed by a series of 16 consultation events that were held across the country.
The report reveals that despite recent advances in the law and social attitudes LGBT people still face widespread inequality in Scotland, and an overwhelming majority of LGBT people (94%) say that more needs to be done to tackle the problem.

Bi visibility day - 23 September #BiVisibilityDay
I hope many of you are organising events or activities for Bi Visibility Day on 23 September 2015. If you want a reminder of our bi specific resources, please ask. Let us know what you are planning so we can publicise it.
2015 LGBT recruitment and organising awards
Note the article on the recruitment and organising awards on page eight of the summer Out in UNISON www.unison.org.uk/catalogue/23251. This draws your attention to an additional award for best photo this year, so get snapping. Click here for advice from last year's winners, North West LGBT group. Deadline for submissions is 18 September 2015.
ILGA
This year's conference is being held in Athens on 28 - 31 October 2015. Add link www.ilga-europe.org/conference
Pride
The LGBT Committee will be attending this year's Pride in Glasgow on 22 and 23 August 2015 at Glasgow Green. We will have a stall in the community zone. Please come along and say hello.
Equal Marriage Archive
Reports to Scottish Council and archive minutes
Briefings and Reports Archive
Previous News

Archive news
About Self Organisation
To make sure all our members have a voice in the union, UNISON members have set up 'self-organised groups' to provide a voice for people who are traditionally under represented. UNISON has groups at national, regional and local level for women, lesbian, gay, bisexual and transgender members, black members and disabled members. These groups are designed to be self-organising but also integral to the union's structures.