Ensure Scotland's public bodies report on their climate change work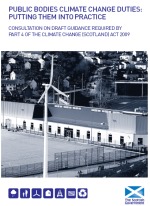 Public Bodies Climate Change Duties consultation Closing date 26 November 2010

Scotland has the toughest targets to reduce greenhouse gas emissions of any country in the world – and our local authorities and other public bodies have a major part to play in making a success of our ambition.
Thanks to campaigning by UNISON and others in Stop Climate Chaos Scotland, public bodies have statutory duties under the Climate Change (Scotland) Act 2009.
Yet the Scottish Government does not plan to require public bodies to report on what they are actually doing to reduce emissions – making it difficult to monitor their performance and therefore their overall progress.
There is still a chance to influence this process through a public consultation which is running until 26 November 2010, in which the Scottish Government is asking for views on the draft guidance for public bodies.
Stop Climate Chaos Scotland has set up an E-Action, hosted by Friends of the Earth Scotland, so that with just a couple of clicks you can support this and urge the Scottish Government to act.
UNISON Scotland members are asked to take part in this and help ensure that public bodies in Scotland are required by law to report on their activities to tackle climate change. Click here http://e-activist.com/ea-campaign/clientcampaign.do?ea.client.id=133&ea.campaign.id=7671 to support the E-Action asap.
The final deadline is 26 November 2010. You can read the Scottish Government the draft guidance here http://www.scotland.gov.uk/Publications/2010/09/16112110/0
and the full SCCS consultation response here http://www.stopclimatechaos.org/public-bodies-consultation-response.pdf