All change at the top for UNISON Scotland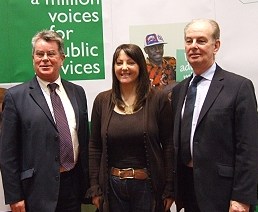 Mike Kirby, Lilian Macer and Matt Smith
Lilian Macer was elected by branches as the new Scottish Convener - UNISON Scotland's lead lay activist - after previous convener Mike Kirby formally took over from Matt Smith as Scotlandís lead full time official in December 2010.
A new vice convener will be elected at the February Scottish Council.
General Secretary Election - Dave Prentis re-elected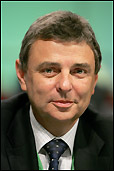 22 June 2010: Dave Prentis has been re-elected as General Secretary of the UK's largest public sector union.
Dave has been UNISON's General Secretary since January, 2001, he said:
"This is a vote of confidence in the union and the direction that we have been taking over the past few years. We face critical times as a union and it is important that we remain united, strong and focussed on dealing with the challenges that face our members.

For more see UNISON UK Press Release http://www.unison.org.uk/asppresspack/
pressrelease_view.asp?id=1900